Dessert is a dish that features at the end of a meal. Often, it consists of sweet foods such as fruit, chocolate, candy, and nuts. In some parts of the world, especially northern Europe and America, desserts are usually referred to as "sweets".
A great variety of desserts have been created around the world with different types of ingredients. Desserts usually have a sweet taste, although some desserts are considered spicy or savory even with no added sugar. Only certain types of sweets such as candies and mints can be eaten as desserts before a meal because they will spoil the after-dinner palate.
Pakistani desserts are the best in the world. They are most famous for their taste and mouth-watering appearance. The Pakistani desserts have a great variety of tastes from plain sugar to creamy milk, from very sweet to spicy with nuts, from dry fruit-based to cream-based desserts.
Here is a list of the top 10 Pakistani Desserts.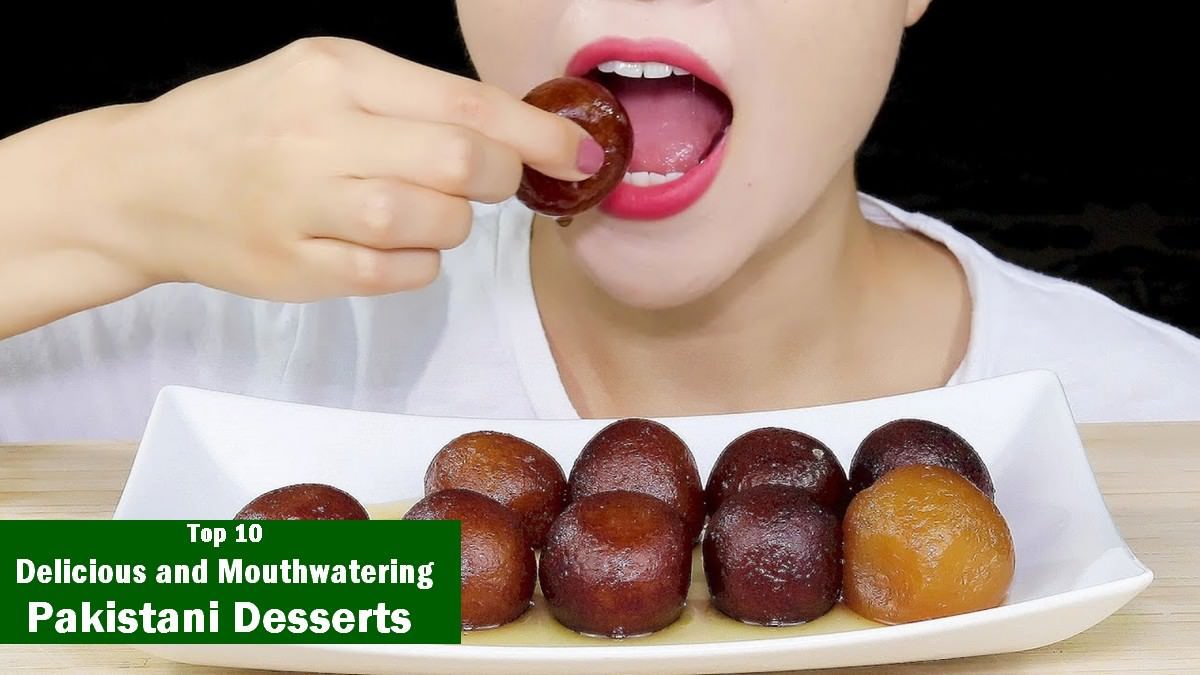 10. Kala Jamun
Kala Jamun is a famous dessert that is made of milk, sugar, and flour dough. Kalakand or kaluma as it's also called can be eaten at any time but for some reason, it always seems to taste the best in the wee hours of night either with family or friends!!
9. Rabri
Rabri was basically introduced in Mughlai cuisine by Persian chefs back in the 18th century. It is nothing more than sweetened, thickened, and reduced whole milk whose main ingredients include sugar, water, milk, and cardamom powder. It has a very rich creamy texture that melts instantly in the mouth giving you the feel of heaven!
8. Gulab Jamun
Gulab jamun is the most popular dessert all over the world, especially during the hot summer months. It is basically fried dough balls soaked in flavored sugar syrup and served with ice cream or rabri on top of it!! This one is a must-try for everyone as it's one of those desserts that can never go wrong!
Also read: Which is the sweetest and most popular sweet in India?
7. Ice Cream
Ice Cream has been a great hit amongst people all around the world ever since it was first introduced to the Pakistani market way back in the 1960s. Ice Cream was always an integral part of every summer festivity as it would not only cool your body but also bring a smile to your face!! In Pakistan, different types of ice creams are available in the market
6. Falooda
Falooda is a type of dessert made with milk, vermicelli, jelly and loads of fruits on top of it!! There are two types of falooda available in Pakistan; strawberry syrup and the other with kiwi syrup. I am personally not very fond of this dessert but some people swear by its richness and few drops on each spoonful enhance your mood for hours at least that's what I heard! lolz
5. Shahi Tukray
Shahi tukray was introduced to Mughlai cuisine way back during the 18th century by Persian chefs and was tweaked to suit local taste buds. Shahi tukray is actually a spongy rice pudding that has a rich creamy texture and is loaded with dry fruits on top of it. Shahi tukray can be enjoyed as such or you can add some cream over it making it even tastier!
Also read: 10 Mouthwatering Pakistani Dishes You Should Try Today.
4. Kulfa
Kulfa is another famous Pakistani desserts that got its name from the milk used to prepare this scrumptious treat! The best thing about kulfa is that you don't have to wait until it's chilled in order to eat it rather it tastes great when served hot!! It has a thick cream base, chunks of dry fruits, and is enriched with pistachio bits which makes for a mouth-watering combination!
3. Halwa
Halwa is basically a thick paste of suji (semolina), sugar, ghee, and dry fruits which can be served hot or cold! It has both savory as well as a sweet taste making it a great option for people looking for desserts that taste equally good!! It also comes in different types like gehu ka halwa, Sohan halwa, dhoodh peda, etc all of which are absolutely delicious treats!!
2. Kheer
Kheer is one dessert everyone will enjoy whether you are watching drama serials or just relaxing at home after having a tiring day!! It's one of those desserts that are often cooked during Ramadan because it's easy to prepare and requires less time to cook!! Kastoori doi, shahi doi, and rice kheer are three popular variations of kheer which taste equally delicious!!
1. Lassi
Lassi is a Punjabi dessert that has been around for centuries now! It was basically brought over to Pakistan by Indians as they love it so much during the summer months hence this milk-based drink can be enjoyed all year long as well!! Its sweet, creamy texture makes it great for people with low appetites because one glass will fill you up easily making you feel lighter.
Mouthwatering desserts have always been popular amongst people of all ages. There are many reasons for this, some being that they come in a wide variety of flavors, textures, and forms to please every palate ranging from hard-baked cheesecakes to soft caramels oozing with chocolate sauce.
Desserts are known to be rich in flavor, light on the stomach yet energy boosting. They are loved by children especially due to their visually enticing trails of cream or fruit sauces. Also, it is said that sweets improve your mood and provide instant gratification which can be an effective way to end a meal if not given beforehand!