Who exactly would be your pick for hottest female athlete? Maria Sharapova? Or Danica Patrick? I have to say this was a very challenging list to come up with. But it was also pretty fun. So here is a list of 20 of the hottest female athletes in the world 2023. Maybe you'll see a lot of your favorites make an appearance.
Top 20 Hottest Female Athletes in the World 2023:
20. Fatima Diame
Last but not least in our list of hottest female athletes right now. Fatima Daime is a triple jump athlete from Spain. The Valencia-born athlete Fátima Diame made it to the 2017 World Championships and won a bronze medal in the long jump at the 2015 Euro Junior Championships.
See also: Top 10 hottest black women.
19. Antonija Sandrić
Croatian professional basketball player Antonija Sandrić ranked as one of the most beautiful women in basketball. Not only known for basketball, but as a girl, Sandrić played a variety of sports in her native town of Šibenik, including volleyball.
See also: Top 10 best female basketball players of all time.
18. Simona Halep
Simona Halep was better known for her bra size than her skills with a racket. This 30 year old babe from Romania is is at No. 18th position in our list of hottest female athletes in the world 2023. One of the most dashing women tennis player with hottest body figures.
17. Michelle Jenneke
Australian hurdler and model rose to international fame when a pre-race warm-up dance video of her went viral in 2012. See also: Top 10 most beautiful Australian women.
16. Anastasia Ashley
Professional American surfer and model, Anastasia Ashley is our pick at number 16th. Anastasia starting sufing just at the age of 5 years old. She won a surf contest when she was 6 years old. By the age of 7 years, Anastasia picked up a sponsor to replace her run-down board with new ones.
See also: Top 10 most beautiful American women athletes.
15. Camila Giorgi
This Italian pro tennis player is our pick at No. 15 among hottest female athletes 2023 list. Camila Giorgi won her first International Tennis Federation tournament in 2009 and made her Women's Tennis Association debut in 2011.
The biggest title of her career was at the 2021 National Bank Open in Montréal, where she defeated the former World No. 1, Karolína Plíšková, in the final.
Giorgi is best known for her aggressive style of game and her powerful flat groundstrokes. She is not just hottest but also considered to be one of the hardest hitters of all time.
14. Alana Blanchard
Alana Rene Blanchard is an American professional surfer and model. Blanchard has surfed on the ASP World Tour, and is our number 14 pick. At the very early age of just 4 years, she was taught by her father how to surf. Then at the age of 9 years, Blanchard went on to compete for the first time. In addition she was played by actress Lorraine Nicholson in the 2011 film Soul Surfer.
See also; 10 Gorgeous Sports Women Who Broke All Stereotypes.
13. Yuliya Levchenko
Ukrainian high jumper Yuliya Levchenko is one of the most beautiful as well as hottest female athletes in the world. The 24-years-old athlete competed at the 2020 Olympic Games, where she finished eighth.
See also: List of 20 most beautiful Ukrainian women.
12. Alysha Newman
This 27-years-old Canadian track and field athlete comes at No. 12 position in our list. Alysha Newman's (who specializes in the pole vault) first sport was gymnastics. She was forced to abandon gymnastics at the age of 13. Than she involves in sports like ice hockey and diving. After one year off sports, she chose track and field.
11. Paige VanZant
Lat but not not least! Paige VanZant is at No. 10 position in our list of hottest female athletes in the world 2023. Paige is the hottest thing going in the UFC (pun intended). She fights in the Strawweight division, she checks in at a mere 115lbs.
See also: The list of 50 most beautiful women in the world.
10. Camille Leblanc Bazinet
Canadian CrossFit athlete and winner of the 2014 CrossFit Games, Camille hold the No. 9 position in our list of hottest women athletes 2023. See also the list of hottest female Canadian athletes of all time.
9. Skylar Diggins
Skylar is a WNBA player for the Phoenix Mercury. Diggins was drafted third overall by the Tulsa Shock in the 2013 WNBA draft. While in college at Notre Dame she became their all-time leading scorer with 2,357 points.
See also: List of most beautiful women in sports.
8. Ronda Rousey
Ronda Rousey is a professional wrestler, actress, former mixed martial artist and judoka. Best known for her time in the Ultimate Fighting Championship. Ronda is the first women's UFC Batamweight Champion and Strikeforce Women's Batampweight Champion.
Rousey is one of the hottest female athletes of all time. She was voted the best female athlete of all-time by ESPN. In addition, she is the only woman to win a championship in both the UFC and WWE, as well as the only woman to headline a pay-per-view event in both companies.
7. Alex Morgan
She has that athletic, girl-next-door thing going on too.
Alex Morgan is a soccer player, Olympics gold medalist, and FIFA Women's World Cup champion. She became the youngest player on the national team at the 2011 FIFA Women's World cup when she was only 22 years old. Alex is one of the most influential women athlete in the world.
Also, she is one of the highest paid athletes. In addition to other things, she is the first women's soccer players to appear on the cover of FIFA video games, along with Canada's Christine Sinclair and Australia's Steph Catley.
See also: Top 10 most beautiful women soccer players.
6. Blair O'Neal
Blair is a professional golfer, model, Cobra-Puma staffer, and the winner of the Golf Channel's "Big Break: Dominican Republic". Also being a sports presenter, she has a huge fan following on social media. The gorgeous athlete began playing golf when she was 11. Right now she is one of the hottest female athletes out there. Also, she has, by far, the best abs we have ever seen on a golfer.
See also: List of most attractive female golfers of all time.
5. Eugenie Bouchard
Most beautiful woman in sports right now. Genie Bouchard is ranked among hottest, beautiful, and most desired sports women in several rankings. The 28-years-old Canadian Tennis player hold No. 5 position in our list.
See also: Top 10 hottest women tennis players of all time.
4. Lieke Klaver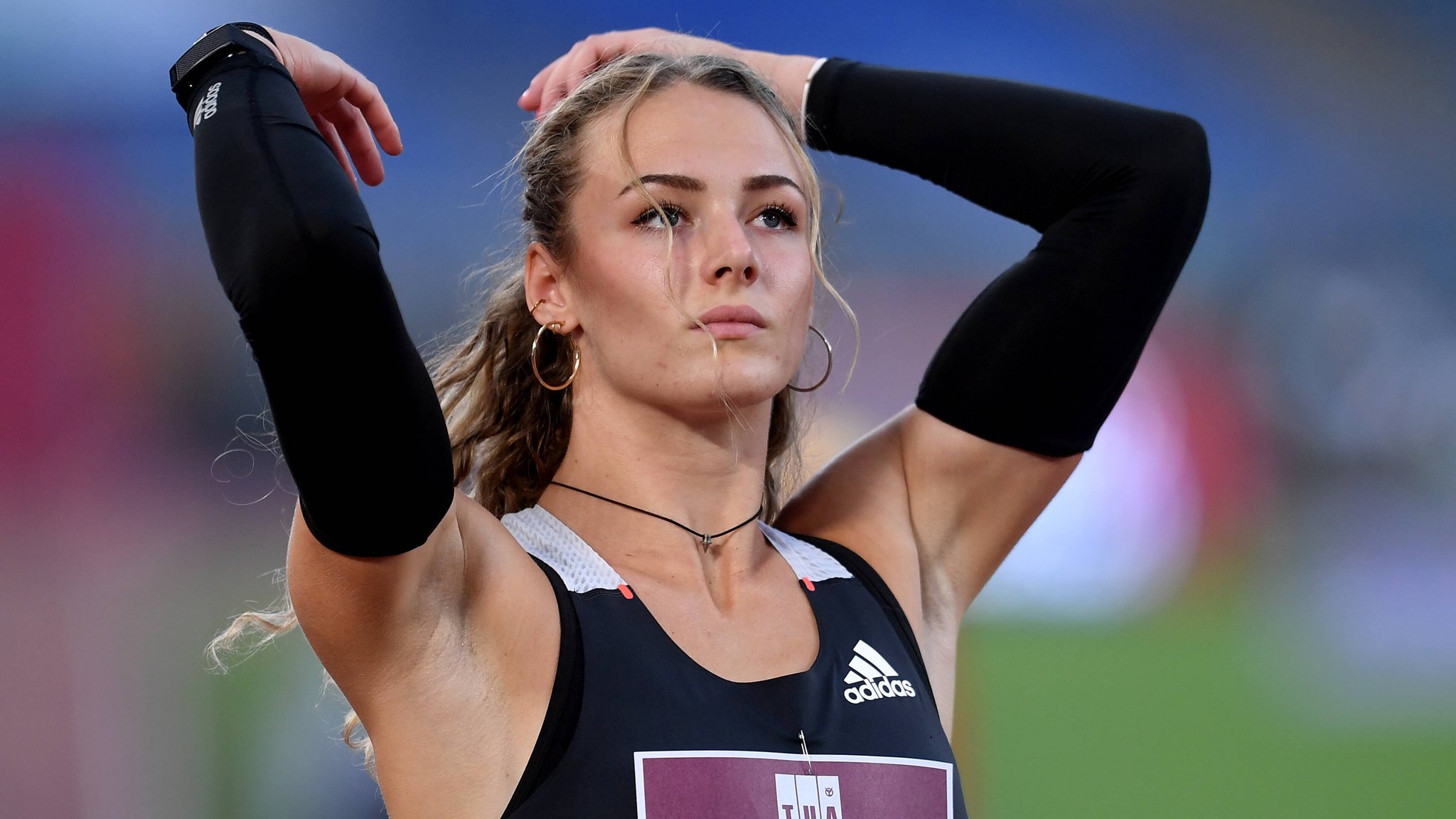 Specializes in sprint races, the 23-years-old Lieke Klaver is a Dutch track and field player. She cute looking as well as hottest. She represented Netherlands at the 2019 World Athletics Championships, and the 2020 Summer Olympics.
3. Ivona Dadic
Austrian track and field athlete of Bosnian descent, Ivona Dadic hold the No. 3 position on the list. She competed Summer Olympics 2012 and 2020, and finished 8th. In addition, she was awarded "Best Sportswoman in Croatian diaspora".
See also: List of sexiest women Olympic athletes of 2023.
2. Sydney Leroux
The 31-years-old professional football player Sydney Leroux hold the second place in our list of hotest female athletes of 2023. She is also an Olympic gold medalist. As a forward, she currently plays for Orlando Pride in the National Women's Soccer League.
See Also: Top 10 best female soccer players of all time.
1. Paige Spiranac
Paige Spiranac is at No. 1 position in our list of hottest female athletes in the world 2023. The 28-years-old pro golfer best known for her Instagram account as well as her golf game. Basically, she is a YouTube golf instructor with over 260,000 subscribers and 145 instructional videos, a social media personality with 3.2 million Instagram followers, and a former professional golfer.
Let us know who we missed on this list "Hottest Female Athletes 2023". We update this list frequently and sometimes use your suggestions, occasionally they're actually good.
What sport has hottest female athletes?
Following are the sports with hottest female athletes in the world.
Cheerleading.
Track & Field.
Swimming.
Surfing.
Tennis.
Gymnastics.
Bodytoning.
Which athletes have the most attractive bodies?
Athletes with most attractive body:
Jessica Ennis.
David Beckham.
Ronda Rousey.
Cristiano Ronaldo.
Sally Pearson.
Ryan Lochte.
Stephanie Rice.
Yohan Blake.